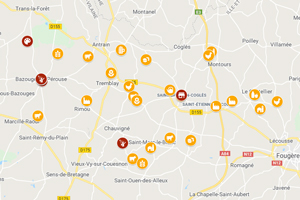 Location
Local products and handicraft
Find here all the best places that we heard about (French leaflet) :
Flavors and expertise are present on the territory of Couesnon Marches de Bretagne ! The local speciality is the "Pommé", but the territory has other amazing gourmet surprises ! Also, many artists and craftsmen live on our territory and open their workshop on apoitment.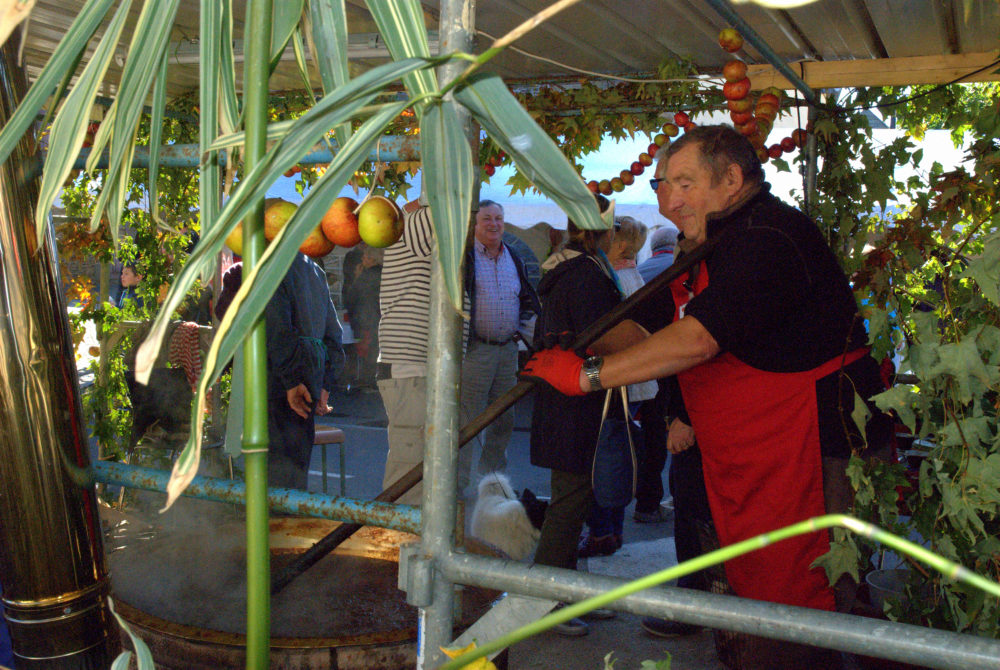 POMMÉ, A FOOD TRADITION
Speciality and local produce of the Gallo region, the "Pommé" is like a kind of marmelade realized from a mix of apples brassed in a new cider. Although the pommé is exclusively…
Learn more
MARKETS
Every week, enjoy the markets on Couesnon Marches de Bretagne and its surroundings to take a snatch or buy local food…
Learn more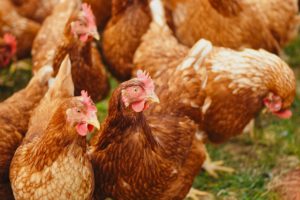 Ferme de Loisillière
35460 Les Portes du Coglais
The Loisillière's Farm proposes poultry in organic farming : chicken all year, chicken rillettes, duck rillettes, Guinea fowl, duck, duckling 2 or 3 times by year. Turkey and goose for celebrations. 
■ Practical informations :
Farm sale on appointment. Farm sale the Friday from 4.00 PM to 6.00 PM.
La Loisillière – Montours 35460 LES PORTES DU COGLAIS
Phone : +33 (0)2 99 98 57 09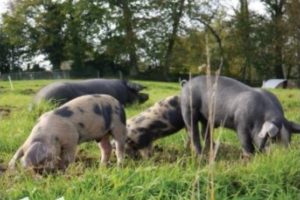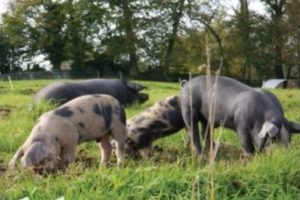 Ferme des Biaux Cochons
35560 Val-Couesnon
Passionated about agroecology since more than 30 years, Michel Bobon replants, on his farm in agrobiology, hedges for landscape and water's quality. He practices also conservation agriculture, for soil fertility and biodiversity. His animals are raised outdoor. Direct sale of veal in a box of 8kg, pork in 10kg, beef in 12kg, vacuum-packed organic food.
■ Practical informations :
Meat available on rappointment, the last Friday of each month from 6 PM to 7 PM, ready to eat or to freeze.
Le Plessix – La Fontenelle 35560 VAL-COUESNON
Phone : +33 (0)2 99 98 97 73 – +33 (0)7 87 40 45 41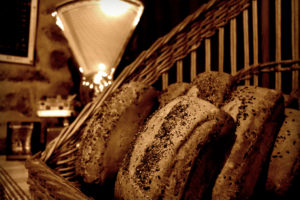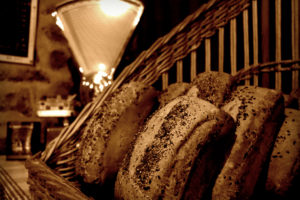 Ferme du Bas-Val
35133 Saint-Germain-en-Coglès
Breads, brioche and pastries, organic leavened bread baked on a wood fire : wheat, spelled, flax, sunflower, sesame, grape, fig, apricot and chocolate. Beef and veal of Aubrac cattle by package from 6kg to 10kg.
■ Practical informations :
Direct sale every Friday from 4.30PM to 7PM, and on the market of Fougères the Saturday mornings.
On command at the Coccimarket (St-Etienne-en-Coglès) and at La P'tite Boutique (St-Brice-en-Coglès) on Wednesday.
Le Bas-Val 35133 SAINT-GERMAIN-EN-COGLÈS
Phone : +33 (0)6 80 36 73 73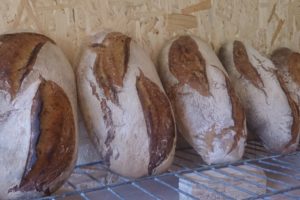 Fournil du Bulin
Romazy
Leaven bread, made with T80 organic flour from the Moulin de Rimou, with filtered water and grey sea salt. Knead by hand, long fermentation, cooked in a wood stove. Breads of 2 kg or 1 kg, which can be kept one week.
■ Practical infromation :
Bakery every Thuesday morning, order before Sunday night.
On order only (leave contact information). Bread deposit in Bazouges-la-Pérouse and Romazy.
Phone : +33 6 63 19 82 27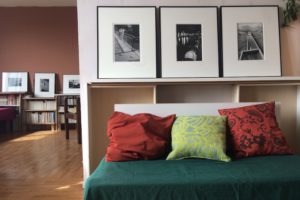 Franck Collin (FYMC)
35560 Bazouges-la-Pérouse
It's a wide eclectic course, engaged in writing and photography, in drawing and some ludic creations Henceforth, we talk about a catalog of literary' and visual's works of art. These one are amazing : thought, written, illustrated and made by the author. Welcome to curious, passionated of art.
■ Practical informations :
Groups from 5 to 10 persons are welcomed, by appointment.
9, rue Angèle Vannier 35560 BAZOUGES-LA-PÉROUSE
Phone : +33 (0)7 68 81 01 79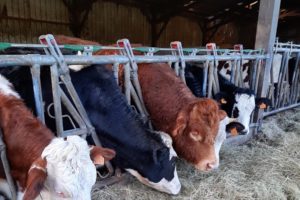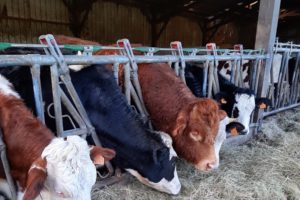 GAEC de l'Arc-en-ciel
35460 Maen Roch
Marie-Joand her partners are raising cattle in their farm (organic veal and beef meat). Sale on packages of 10 kg and/or 7 kg with a selection which may contain (depend on the season) : bourguignon, rib steak, rib eye steak, tournedos, shank, beef only sausages.
■ Practical informations :
Sales on the farm on appointment.
Two farms :  Le Beaumier and La Croix Madame – Saint-Brice-en-Coglès 35460 MAEN ROCH
Phone : +33 (0)6 34 59 01 73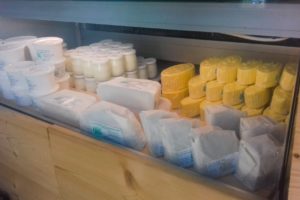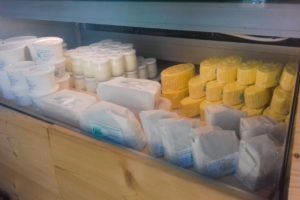 GAEC des Domaines
35560 Saint-Rémy-du-Plain
This is the story about four partners, sharing strong values as the love of their land, a passion of cattle breeding, sharing with people, pleasure of great meals…
They care about a herd of three dairy cow species : Prim'holstein, Montbéliarde and Jersey cattle. They are on the way to be certified as organic since February 2021.
Since three years ago, these farmers became flavour creators with many milk products : soft white cheese, butter, yogurts, crème fraîche and also a great salted butter caramel. These authentic products are intended to be simple, natural and eco-responsible (glass jars, reusable packages…)
■ Practical informations :
Farm market every Friday from 4 PM to 7 PM
Le Breil Samain 35560 SAINT-RÉMY-DU-PLAIN
Phone  : +33 (0)6 71 02 57 86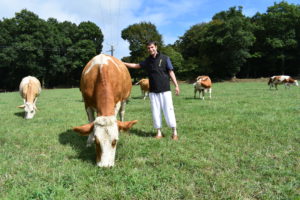 Gaec Le Feuil
Maen Roch
The farm GAEC le Feuil is an organic agriculture organization. They sell organic beef (Simmental cattle) vacuum-packed and labelled 10 kg boxes, veal calves in vacuum-packed and labelled 5 kg boxes. In the summer, packages for barbecues are available, vacuum-packed and labelle. The farm sells self-service organic unpasteurized milk, all day from 5:30 PM to 6:30 PM (remember to come with your own bottles).
■ Practical information :
Farm sale everyday from 5,30 PM to 6,30 PM, on order ake by phone. Reach Adrien Goupil.
Phone : +33 6 76 07 57 88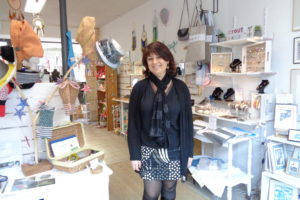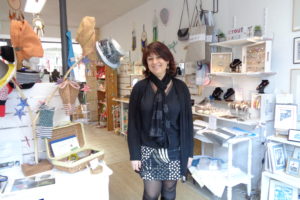 L'Escale Créative
35460 Maen Roch
Shop of creators : gifts, soaps, jewels, bags, hats, cards …
■ Practical informations :
Open the Tuesday and the Thurday from 2.30 PM to 6.30 PM, the Wednesday from 10 AM to 12.30 AM and from 2.30 PM to 6.30 PM. The Friday from 10 AM to 6.30 PM. The Saturday from 10 AM to 6 PM.
2 Bis, rue Pasteur – Saint-Brice-en-Coglès – 35460 MAEN ROCH
Phone : +33 (0)2 56 47 58 93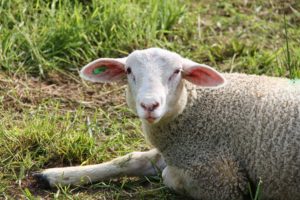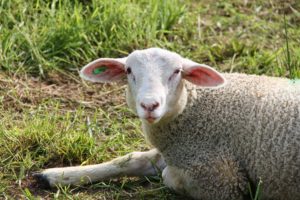 La Bergerie de Maen-Roch
Maen Roch
Cattle farm of 330 sheep producing lamp meat with the French quality label Bleu Blanc Coeur. The lambing season spread all year along, so it's possible to get certified lamp meat once by month. The quality, the love of sheep breeding, traceability and the short circuit are the main concern on this recent cattle farm. Lamp meat package and ewe merguez sausage in direct sale by ordering. Vacuum-packed with labelling.
■ Practical informations :
Le Haut Primaux – Saint-Étienne-en-Coglès 35460 MAEN-ROCH
Phone : +33 (0)7 88 46 18 80