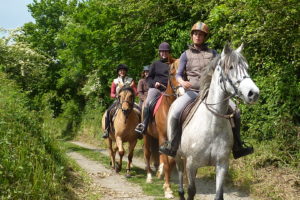 Horse riding
Many hiking trails and forest tracks are open to horse riders.
Going aroung all the Bretagne, the Equibreizh tour cross our territory.
If you need a mount, find here a riding school to rent one.
For families, you can rent a donkey to stroll with at Saint-Germain-en-Coglès.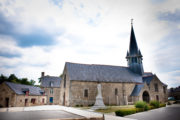 LE CIRCUIT DE SAINT-GEORGES – The Circuit of Saint-Georges
chauvigne
Soft valleys which offer panoramas on a preserved landscape, hollow paths which reveal a remarkable built history, the circuit of Saint-Georges in Chauvigné offers you the richness of the Fougères countryside.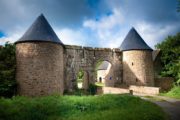 LA BOUCLE DE MARTIGNÉ – The Loop of Martigné
bazouges-la-perouse
On this hiking loop, which crosses the "Petite Cité de Caractère" (Character Village), you will have the opportunity to cross the Bellevue park where you''ll enjoy a panorama towards the villages of Saint-Rémy-du-Plain and Marcillé-Raoul. You will also see the Martigné portal, which today gives its name to this hike. In order to return to the historic center of Bazouges you shall access it via rue du Châtelet where the birthplace of Angèle Vannier (french poetress) is located.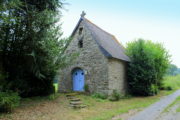 LA BOUCLE DE LA TRINITÉ – The Loop of Trinity
marcille-raoul
Home to many beliefs and legends, Marcillé-Raoul invites you to walk in the footsteps of the pilgrims of the past to discover several sites, places of devotion and popular superstitions, the most remarkable of which is the Chapel of the Trinity.