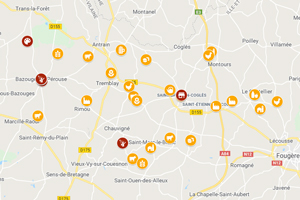 Location
Local products and handicraft
Find here all the best places that we heard about (French leaflet) :
Flavors and expertise are present on the territory of Couesnon Marches de Bretagne ! The local speciality is the "Pommé", but the territory has other amazing gourmet surprises ! Also, many artists and craftsmen live on our territory and open their workshop on apoitment.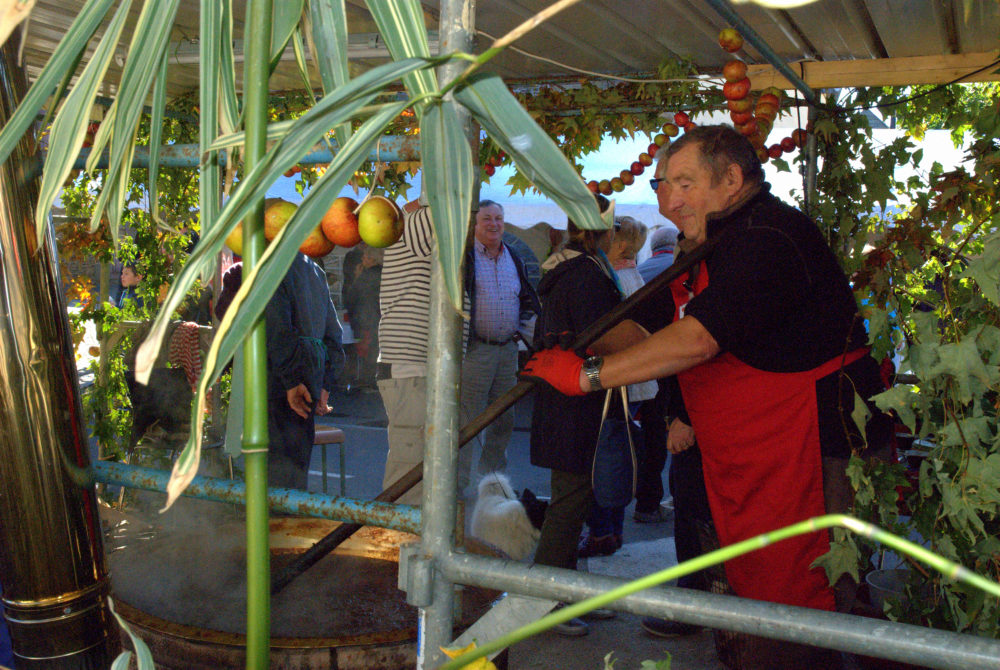 POMMÉ, A FOOD TRADITION
Speciality and local produce of the Gallo region, the "Pommé" is like a kind of marmelade realized from a mix of apples brassed in a new cider. Although the pommé is exclusively…
Learn more
MARKETS
Every week, enjoy the markets on Couesnon Marches de Bretagne and its surroundings to take a snatch or buy local food…
Learn more
Le Nid de Plume
Saint-Germain-en-Coglès
Manuela Bagot, creative seamstress, created this micro-company in Brittany. Her creations are mainly for babies and mothers. She creates birth gifts (blankets, health notebooks, sleeping bags, etc.), origami mobiles but also zero waste items (paper towels, washable wipes, flat charlottes, bags, etc.)
■ Practical information:
Shop open by appointment only.
45 Rocher de la Boulais 35133 Saint-Germain-en-Coglès
Tel: 06 74 21 75 54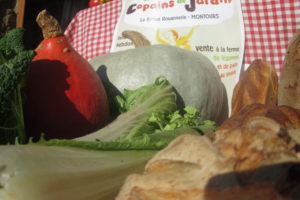 Les Copains de Jardin
35460 Les Portes du Coglais
Organic production of bread leavened and seasonal vegetables. Our wheat, produced on the farm, is ground at the Mill of Rimou and at the Mill of Saint-Germain-en-Coglès. Then, the wheat comes back at the farm to be baked. Bread leavened, soft bread and peasant bun are baked in a wood oven. In our farm, you will find, also, some produces of our colleagues.
■ Practical informations :
Farm sale Tuesday from 4.30 PM to 8 PM and commands on Friday.
La Basse Rouannerie – Montours 35460 LES PORTES DU COGLAIS
Phone : +33 (0)2 99 98 61 76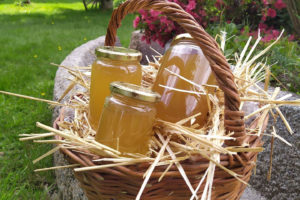 Les Délices d'Astrid
Val-Couesnon
Les Délices d'Astrid (Astrid delicacies) is born of a needed occupational retraining far from the screens. Astrid discovered beekeeping 4 years ago thanks to a friend beekeeper, and trained for 78 months in 2019. It became a passion. Today, she sells honey from her own hives and apple juice.
■ Practical information :
Sale on the markets of Combourg (Monday morning), Saint-Ouen-le-Rouërie (Thursday afternoon) and the Chèvrerie d'Eliss in Crollon (Friday afternoon).
Phone : +33 6 84 83 07 76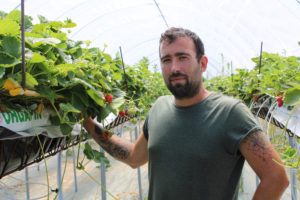 Les Fraises d'à côté
Maen Roch
Strawberry sale at the farm on punnets of 250 gram and 500 gram. Many species available in accordance with the morning harvesting. Soilless cultivation without use of pesticides with integrated biological methods.
■ Practical informations :
Sales on the farm from mid-April to the end of October, on Wednesday and Saturday between  1.00 PM and 5.00 PM or before 5.00 PM on appointment.
Le Croisé – Saint-Brice-en-Coglès 35460 MAEN ROCH
Phone : +33 (0)6 44 39 30 28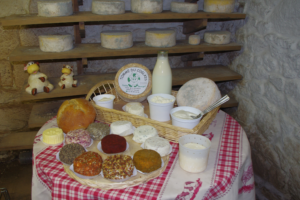 Les Fromages du Coglais
35460 Le Tiercent
Joëlle has a farm on Le Tiercent where she raise a small herd of Jersey cattle. She transforms all the milk of her cows into cheese : tomme du Coglais, St-Tiercelin anture of spicy, P'tit Jersiais and soft white cheese, butter, crème fraiche,cheese strainer, yogurts… passionate farmer, she is involved in sustainable development : no phytosanitary treatments, maintenance of bocage, short food supply chains… Milk-fed veal, beef and pig meat in packages of 5 kg and 10 kg.
■ Practical informations :
Farm sale by appointment. Present on the market of Saint-Brice-en-Coglès the Friday morning, of Combourg the Monday morning or on the summer market in Fougères the Saturday.
La Bourdinais 35460 LE TIERCENT
Phone : +33 (0)2 99 95 06 56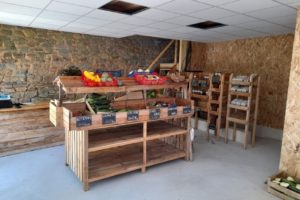 Les jardins des coccinelles
Val-Couesnon
Les jardins des coccinelles is an organic fruit and vegetable farm created in April 2021. Respectful of the environment, Sabrina and Julien use living soil market gardening and agroforestry techniques. You can discover the wide range of vegetables and fruits during direct sales at the farm. Their commitment: seasonal, quality produce picked when ripe. Wishing to make the public aware of current environmental and food issues, the educational farm welcomes the public for events throughout the year.
■ Practical information :
Sale at the farm on Wednesdays and Fridays from 4pm to 7pm, as well as Saturday mornings from 10am to 12.30pm.
Phone number : + 33 (0)7 85 73 67 44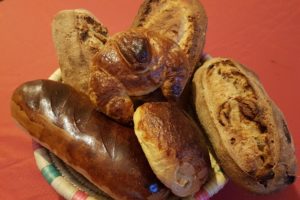 Les Locos
35460 Val-Couesnon
Les Locos cook their products with organic flour from the local mills and with many products from local producers.
Buckwheat pancakes, crepes, bread cooked over a wood fire , pastries, rice pudding, buckwheat chips, buckwheat blinis, artisanal apple juice, cider vinegar, pommé.
■ Practical informations :
Sale on food truck on the markets of Bazouges-la-Pérouse (Thursday morning), of Saint-Ouen-la-Rouërie (Thursday from 3 PM to 7 PM) and of Saint-Brice-en-Coglès (Friday morning). Bread and pastries made-to-order the day before the cooking : Wednesday, Thursday, Friday and Saturday.
17, rue de la Croix Boisselée – Saint-Ouen-la-Rouërie 35460 VAL-COUESNON
Phones : +33 (0)6 31 50 60 33 – +33 (0)6 21 65 92 39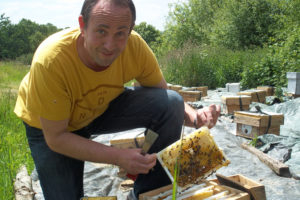 Les Miels du Bois-Verdier
35460 Val-Couesnon
Damien Pasquet, professional beekeeper, proposes you different honeys (spring, summer flower, chestnut…), propolis, royal jelly, candies, gingerbread, candles, soaps and pollen.
■ Practical informations : 
Present on the market of Fougères the Saturday morning. Deposit sale on many shops in the area.
Le Bois Verdier – Tremblay 35460 VAL-COUESNON
Phone : +33 (0)6 63 58 02 02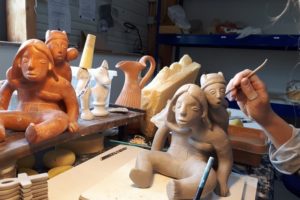 Memento Temporï
Bazouges-la-Pérouse
Since 2005, the Memento Temporï art and history workshop has recreated the masterpieces of many civilizations through its reproductions of terracotta archaeological finds.
Their collections are intended to be eclectic. They regularly develop new creations from many ancient civilizations, from Antiquity to the Middle Ages, from pre-Columbian to Mesopotamian, to make discover or rediscover as much prestigious works of art as simple everyday objects.
■ Practical information:
Opening of the shop from Monday to Friday from 9am to 6pm. Company visit on request.
ZA La Vallée – 4 rue de la carrière 35560 BAZOUGES-LA-PEROUSE
Tel: 09 51 39 66 43